Manifold Absolute Pressure Sensor (MAPS) is a speed-density type sensor and is installed on the surge tank. It senses absolute pressure of the surge tank and transfers the analog signal proportional to the pressure to the ECM.
By using this signal, the ECM calculates the intake air quantity and engine speed.
The MAPS consists of a piezo-electric element and a hybrid IC amplifying the element output signal. The element is silicon diaphragm type and adapts pressure sensitive variable resistor effect of semi-conductor.
Because 100% vacuum and the manifold pressure apply to both sides of the sensor respectively, this sensor can output analog signal by using the silicon variation proportional to pressure change.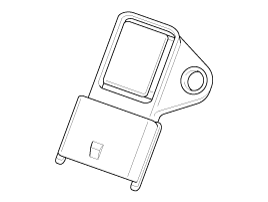 Inspection 1. Turn the ignition switch OFF. 2. Disconnect the IATS connector. 3. Measure resistance between the IATS terminals 3 and 4. 4. Check that the resistance is within the speci ...
Specification Pressure [kPa (kgf/cm?, psi)]Output Voltage (V)20.0 (0.20, 2.90)0.7946.66 (0.47, 6.77)1.84101.32 (1.03, 14.7)4.0 ...
See also:
SS-B Solenoid Valve(ON/OFF) Specifications
Specifications ON/OFF Solenoid Valve(SS-A, SS-B) ? Control type : Normal low type Control pressure [kpa (kgf/cm?, psi)]490.33(5.0, 71.12) Internal resistance(?)10~11 ...
Hazard warning flasher
The hazard warning flasher should be used whenever you find it necessary to stop the car in a hazardous location. When you must make such an emergency stop, always pull off the road as far as poss ...
Engine And Transmission Assembly Repair procedures
Removal Х Use fender covers to avoid damaging painted surfaces. Х To avoid damage, unplug the wiring connectors carefully while holding the connector portion. ...