Pressing the

key will change the
operating mode in order of FM1 ➟ FM2 ➟ AM ➟ XM1 ➟ XM2 ➟ XM3.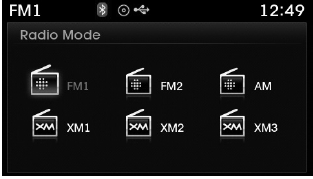 If [Mode Pop up] is turned on within


[Display], then pressing the


key will display the Radio mode pop
up screen.
Use

,


keys and


(


),


keys to move the focus. Press the


key to select.
✽ NOTICE
If the

key is pressed with the
system power off, then the power will turn on and the most recently played broadcast will be played.
Categories
Hyundai Azera Manuals
© 2011-2023 Copyright www.hgmanual.com