Barometric Pressure Sensor (BPS) is a speed-density type sensor and is installed on the air cleaner assemby. It senses absolute pressure of the air cleaner assemby and transfers the analog signal proportional to the pressure to the ECM. By using this signal, the ECM calculates the intake air quantity and engine speed.
The BPS consists of a piezo-electric element and a hybrid IC amplifying the element output signal. The element is silicon diaphragm type and adapts pressure sensitive variable resistor effect of semi-conductor. Because 100% vacuum and the manifold pressure apply to both sides of the sensor respectively, this sensor can output analog signal by using the silicon variation proportional to pressure change.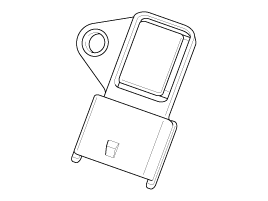 Inspection Throttle Position Sensor (TPS) 1. Connect the GDS on the Data Link Connector (DLC). 2. Start the engine and measure the output voltage of TPS 1 and 2 at C.T. and W.O.T. Throttle ...
Specification Pressure [kPa (kgf/cm?, psi)]Output Voltage (V)10.0 (0.01, 0.15)0.5055.0 (0.56, 7.98)2.21100.0 (1.01, 14.5)3.93115.0 (1.17, 16.9)4.50 ...
See also:
Highway driving
Tires Adjust the tire inflation pressures to specification. Low tire inflation pressures will result in overheating and possible failure of the tires. Avoid using worn or damaged tires which may re ...
Crankshaft Damper Pulley Repair procedures
Removal and Installation Х Use fender covers to avoid damaging painted surfaces. Х To avoid damage, unplug the wiring connectors carefully while holding the connecto ...
Cowl Cross Bar Assembly Repair procedures
Replacement Х When prying with a flat-tip screwdriver, wrap it with protective tape, and apply protective tape around the related parts, to prevent damage. Х Take ...